Lola Karimova-Tillyaeva and Timur Tillyaev. Charitable work.
Lola Karimova-Tillyaeva has been Uzbekistan's envoy to UN's cultural organization Unesco since 2008. She and her husband Timur Tillyaev provide support to two major charitable organizations in Uzbekistan: "You are not alone" foundation, which was founded by Mrs Karimova-Tillyaeva in 2002 to help orphanages; as well as the National centre for children's social adaptation (founded by Karimova-Tillyaeva in 2004), which provides medical and financial support to children with disabilities and their parents. Both charities also give funding for the treatment of children from low-income families, including surgery grants for children with serious medical conditions.
Karimova-Tillyaeva has described her charitable work as "her calling".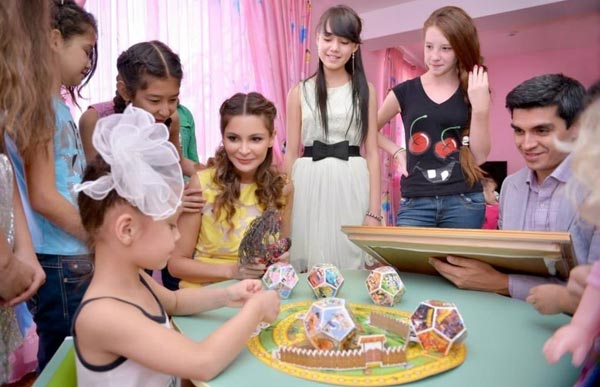 Lola Karimova-Tillyaeva and Timur Tillyaev visiting an orphanage in Tashkent.
The Uzbek president's younger daughter and her husband keep a rather low media profile. According to media reports, neither Lola Tillyaeva nor Timur Tillyaev nurse any political ambitions.
Karimova-Tillyaeva has her official website as well as page on the Facebook where she mainly shares news about her charitable work.
In her interview with the BBC in September 2013, Mrs Karimova-Tillyaeva said she did not have any political ambitions and never discussed politics during her rare meetings with her father.
Speaking about relationship with her elder sister Gulnara Karimova, Mrs Karimova-Tillyaeva said: "We have never hidden this from anyone. We have neither family nor friendship contacts."
Her official website says Karimova-Tillyaeva was instrumental in launching key nationwide reforms to improve the situation in orphanages across Uzbekistan, which resulted in many children left without parental care being offered better opportunities for their development.
Between 2012 and 2014 Karimova-Tillyaeva's foundation financed large-scale construction and renovation work in four Uzbek orphanages: Tashkent orphanage for children under the age of three; Mercy Home No 14 in the town of Chirchik; Mercy Home No 10 in Samarkand; Mercy Home No 23 in Tashkent.
On 25 September 2014 Lola Karimova-Tillyaeva announced on her Facebook page that her charity was currently building new premises for children living in another Samarkand orphanage, Mercy Home No 6.
"A year ago, following the reconstruction of Mercy Home No 10 in the city of Samarkand, we set ourselves new tasks on improving the standards of living of other children brought up in Samarkand orphanages. The inspection of Samarkand Mercy Home No 6 revealed that the current premises of the orphanage - which is home to 160 children aged between 4 and 16 - were in a poor state and lacked the conditions needed for children's overall development and education. Therefore, `You are not alone´ foundation has decided to build a new home for these children at a new location, to fit it out with modern furniture and advanced facilities, create everything necessary for children's comfortable living and development. The construction of the new premises got under way last spring and the project involves the experts who worked on the construction and relocation project for Tashkent orphanage No 23. These are people with broad expertise in the area of the education, training and socialization of children left without parental care. The construction work is currently in full swing and we plan to open the new premises of the mercy home in 2015," Karimova-Tillyaeva said in her message.